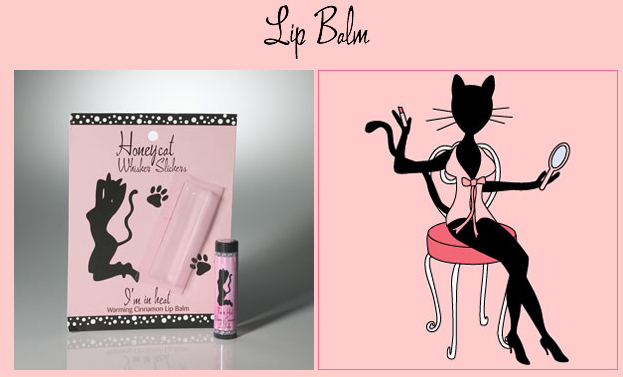 I'm In Heat Whisker Slickers
Girls, this lip balm is outrageous! Cinnamon, ginger flavored with an extra bit of spice. Free of animal products, and petroleum. Vitamin E enriched. Get ready for the tingle! You'll have the hottest pucker in town!
$6.00 @Honeycatcosmetics
METSV says:   One of the first lipbalms I've owned that may actually help me stick to my diet!  Ha!  I put this on my lips and I swear it takes my mind off of reaching for my weapon of choice - salt.  (i.e. chips, nachos, etc)  Open up this adorably packaged balm and it's instant cinnamon - not fake, phoney, or chemically - just out and out pure cinnamon....smells like those yummy redhots that I used to eat by the dozens.   It does warm the lips a bit  - but not overly so - but man, does it moisturize and not in a waxy, cakey, clumpy way.  My lips just feel super soft and hydrated, and unlike other lipbalms, I don't feel like I have to keep applying.  I think regular lipbalms make your lips dryer!   Not so with this one.  My lips stay moisturized too.  Just a soft hint of shine and super soft lips - perfectly natural...wait, no....purrrfectly natural.   Sorry, had to!   Honeycat is such a fun and flirty line - love their products.
Makeup Addict is in complete agreement with Maria.  Honeycat's "I'm in Heat" Warming Cinnamon Lip Balm is one great Lip Balm.  I can use this alone - for the softness and shine which really do last.  I am surprised as I am one of those people who constantly licks my lips and wear off everything.  However, this does have staying power!  In addition to being a great balm on its own -- it can go under a lipstick to treat my lips or over a lipstick to give more shine to the color I am wearing. That enables me to use matte lipsticks as matte - and then, if I apply  Honeycat's "I'm in Heat" Warming Cinnamon Lip Balm over them - a shiny look.  It doubles the appearance of some of my lipsticks.  The Cinnamon Fragrance is real - not that very fake scent you get with many balms, etc.  As Maria mentioned -- if used directly on the lips (rather than on top of a color) it gives you this warm and fuzzy feeling.  For the price - you get your money's worth.  Your lips will thank you!!!